Handmade Halloween - Pumpkin in a Plasticine Hat
Halloween is an unusual holiday for us. It's not that we celebrate it or honor the day of evil spirits, witches, ghouls, vampires, watermen and others, but we still consider this day a reason to have fun. It is unacceptable for us to read everything connected with evil and death. For this holiday unusual bloodthirsty costumes are made, awesome makeup is made, but small children can make wonderful Halloween crafts.
For example, a pumpkin is considered a symbol of the day of evil spirits. You can make it with your own hands from plasticine. And for the kids to be completely scared, let's make a pretty face, put on a thematic funny hat from above and, of course, have some fun while working. It is not necessary to do evil crafts, because our task is to teach the child something good and human.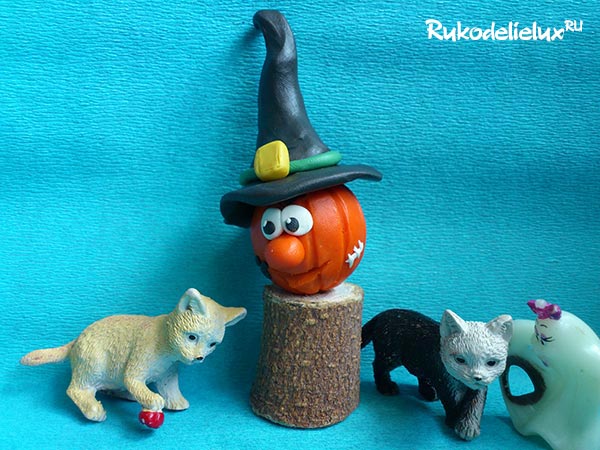 Plasticine pumpkin for Halloween
To create a fabulous pumpkin, prepare:
Orange, black, white plasticine;
Thin wand.
Two main bars for work - orange and black. It is clear that the color of the pumpkin is orange, so you need to use just such a bar. And what have black? A hat will be made from this mass.
And this hat will be not ordinary, but fabulous, like a witch's accessory - long and crumpled. It does not need to be explained to children, because they watch cartoons where good always triumphs over evil.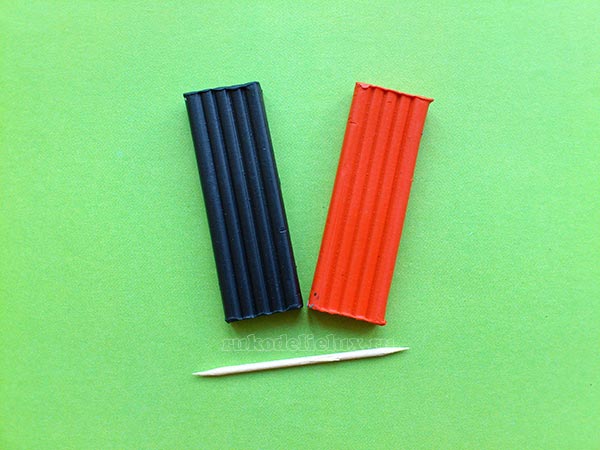 Prepare an orange ball for the pumpkin head. This will be the fruit, a ripe vegetable grown in the garden. But then we modify it.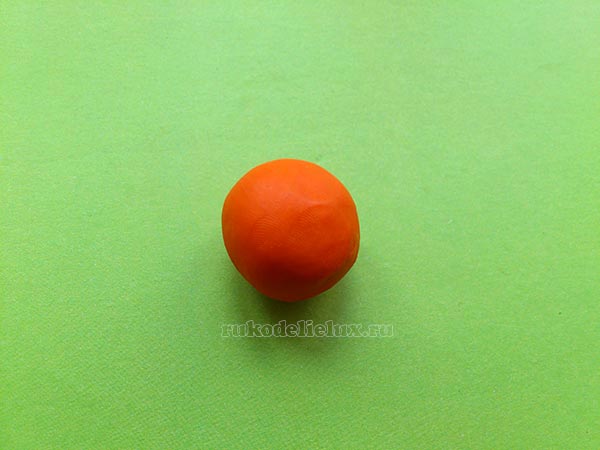 Use a thin wand. Apply it around the circumference to the clay and gently press down from top to bottom to get the vertical dents characteristic of the copied fruit. Make such grooves around an equal distance from each other.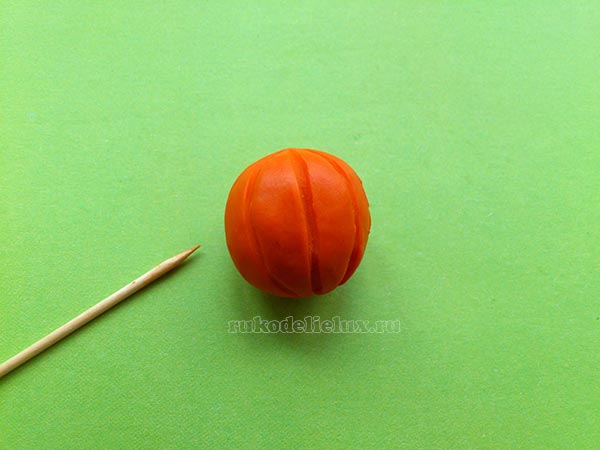 Next, turn our pumpkin into the head with a charming face that will look at the child and smile.
Glue two white eyes, be sure to close them together, below - a wide nose and squeeze out a mouth-smile.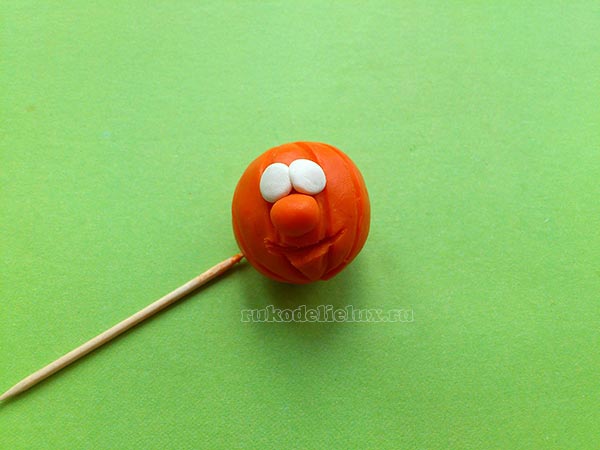 Glue the pupils with white sparkling dots. Above the eyes glue thin black eyebrows. On one cheek, make a black print of the black cat's foot.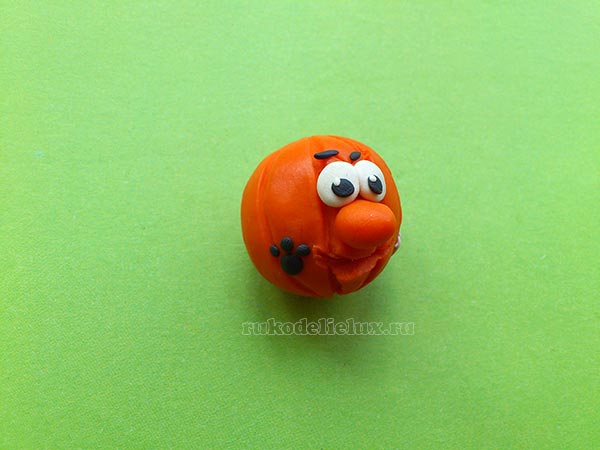 On the other cheek, model a white scar. The pumpkin itself is ready - it is a full-fledged festive accessory that will suit as a souvenir. And such an odd thing is absolutely not scary, rather, on the contrary, it radiates a positive one.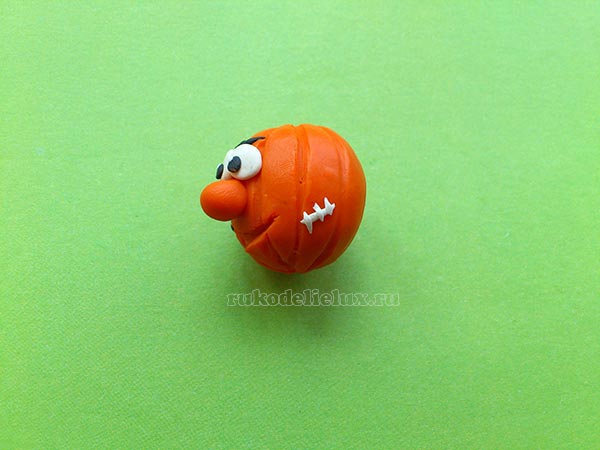 It remains the case for the hat. Make black blanks - a round cake and a thin elongated cap.
Bend the top of the cap.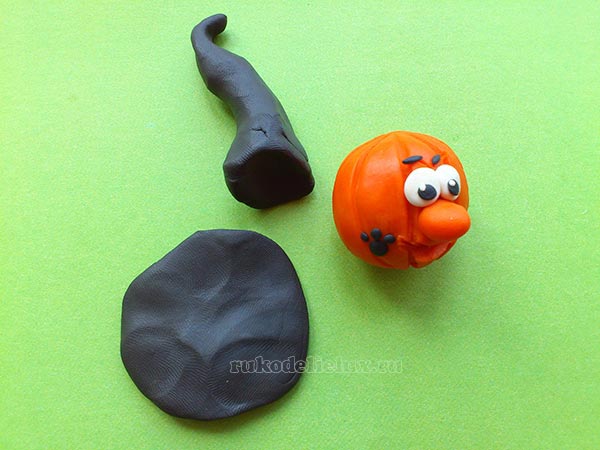 Stick a thin cap on the cake. Put the witch hat on the pumpkin head. Press down. Add a green strap with a golden buckle. Clay stuck together, and the headgear will not fall.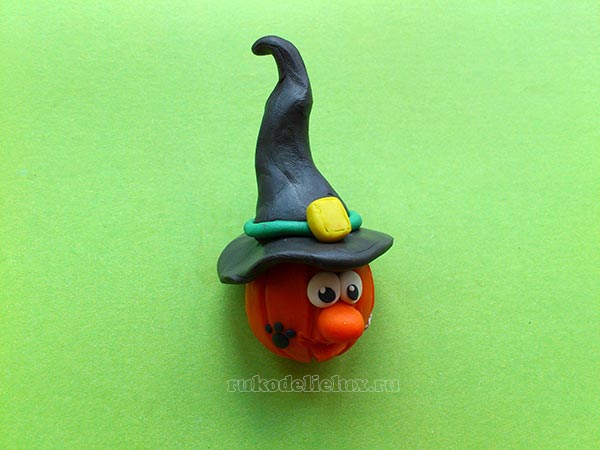 An interesting Halloween hack is done. Every child can make it their own hands. And if you do not want to celebrate Halloween, but simply simulate a hand-made autumn theme, then remove the fragments on your cheeks, replace the black straw hat with a straw.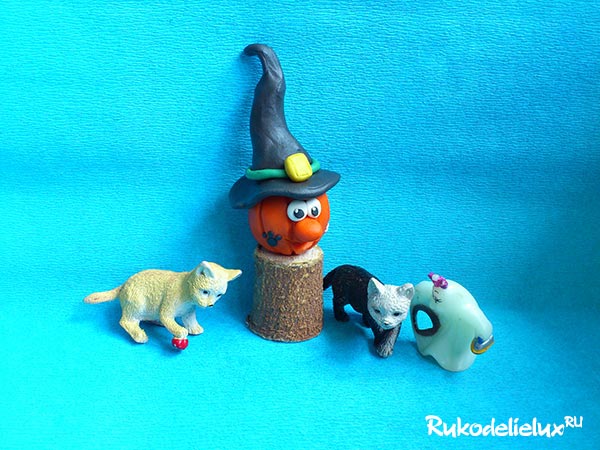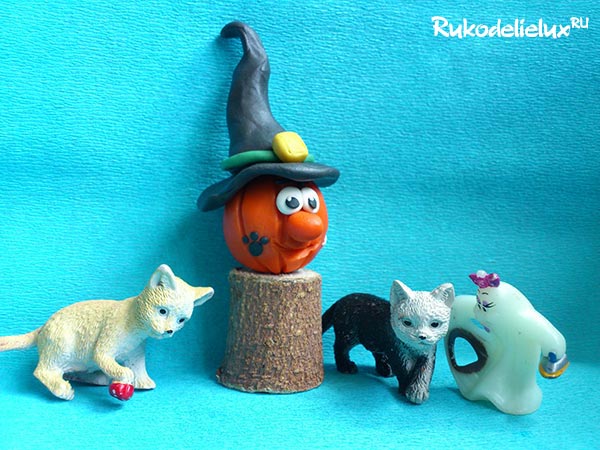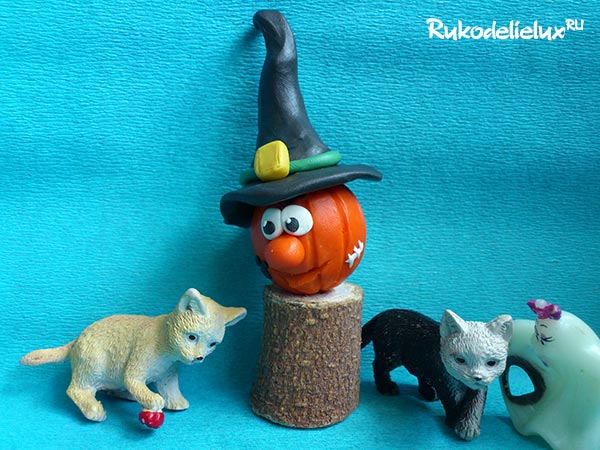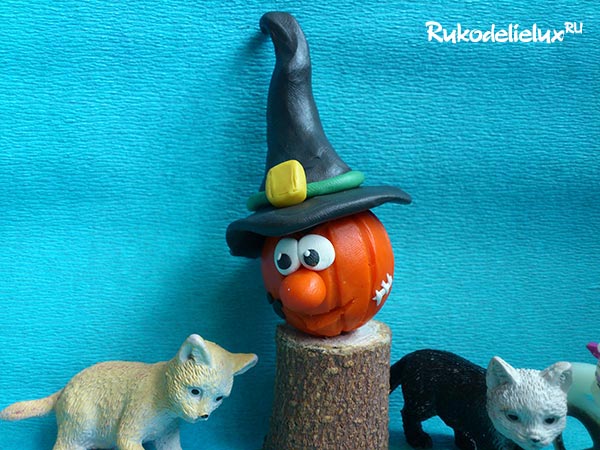 This is how a familiar vegetable is done quite simply. There will be a lot of bars in the plasticine set after work, think up where they can be used.
The author of the master class is Elena Nikolaeva.