Tropical fruit salad with wine
You will need
- Kiwi - 2 pcs .;
- carambola - 1 pc .;
- melon pulp - 200 g;
- white grapes - 25 pcs .;
- apple (sweet) - 1 pc .;
- Lime - 1 pc .;
- honey - 1 tbsp. l .;
- dessert white wine - 2 tbsp. l .;
- mint leaves - 5-6 leaves.
Instruction
Preparation of fruit. Rinse all fruits well with water. Remove a thin layer of zest from lime. Squeeze juice from the pulp. Peel kiwi and cut into thin slices. Peel the apple and remove the seeds. Cut the flesh of the apple into small pieces, pour lemon juice immediately. Cut melon into cubes. Cut each grape along and remove the stones.
Carambola neatly cut the asterisks with a sharp knife.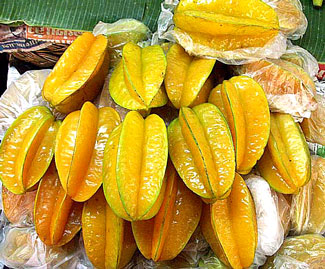 Cooking refueling. Mint leaves finely chop. Mix lime juice (4 tablespoons) with wine, honey, lime zest and chopped mint. Mix well. Refueling is ready.
Combine all the prepared fruits (kiwi, apple, melon, grapes), except carambola. Gently mix the salad, pour the dressing and refrigerate for 30 minutes.Before serving, arrange the fruit salad in the ice-cream bowls, garnish with carambola stars, lime slices and kiwi slices. The dish is ready!